Geopower – Excavator Mounted Geotech Drill
MPP's excavator mounted Geopower drill, was developed for geotechnical and multi-purpose drilling requirements. The rig can easily be adapted to mount on most mid sized excavators. Featuring our PII top drive with high speed coring option, the Geopower excavator mounted drill can be used for auger, air rotary/odex and diamond core drilling. An SPT auto hammer, hydraulic head slide winch and auto hammer mounting arm are all standard features ideal for typical geotechnical work. The Geopower excavator mounted drill mast is a simple, efficient unit and an inexpensive alternative to a complete drill.
Features
Can be mounted on most mid-sized excavators

Multi-purpose geotechnical machine – Auger, diamond core & air rotary

Auto hammer, winch, hydraulic head slide all standard components

Inexpensive alternative to full drill rig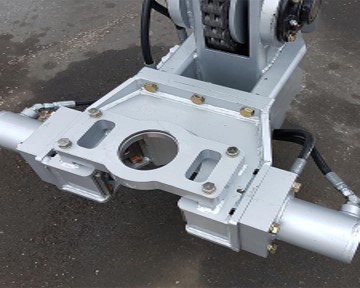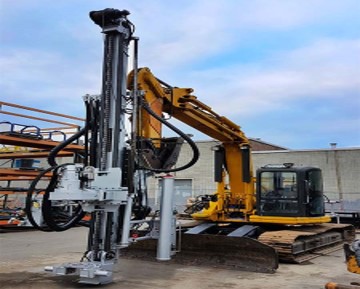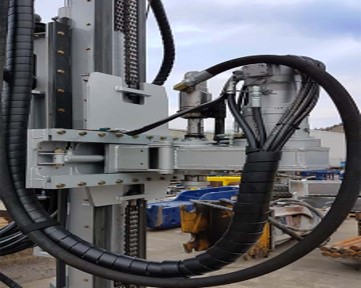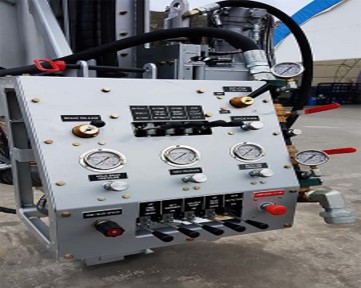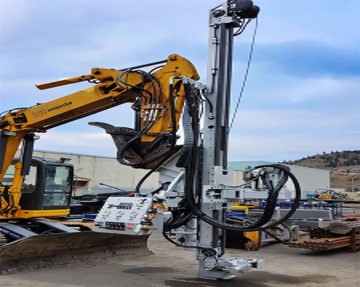 Depth Capacities 

Geotechnical Auger depths

4-1/2" Solid stem auger:

200 ft / 60 m

6-5/8" Hollow stem auger:

75 ft / 23 m

Air rotary/Odex depths

3-1/2" air rotary:

660 ft / 200 m

Diamong drilling depths

N/WL:

2000 ft / 605 m
Excavator

Required machine size:

25,000 lbs. +

Recommended auxilary hydraulics:

30 GPM @ 3000 PSI
Top drive rotation unit

Style:

PII - Multi-Purpose Top Drive

Max torque low speed:

2000 lbs /ft

Max torque high speed:

265 lbs / ft

Max RPM low speed:

175 RPM

Max RPM high speed:

875 RPM

Spindle:

Floating w/ NWJ box connection

Transmission:

Hydraulic shift, 2 speed

Gear ratios:

1:1 & 3.46:1

Rotation motor:

Variable displacement piston 80cc

Head slide:

Hydraulic head slide

Water swivel:

High pressure/high speed water swivel

U-joint:

HD U-joint assembly w/ 1-5/8" hex
Mast and Feed

Design:

Cylinder and chain feed

Pullback:

15,000 lbs.

Pulldown:

10,600 lbs.

Feed stroke:

150"

Working angle:

45 to 90 degree

Mast dump:

40" Stroke, 21,200 lbs. pull
AUTO HAMMER

Slug weight:

140 lbs.

Hammer travel dinstance:

30"

Percussion rate:

0-50 blows per minute

Mounting:

Sliding bracket w/ swing in/out design
WATER PUMP (optional)

Standard unit:

E0413C FM piston pump

Capacity:

20 GPM @ 700 PSI
WINCH

Design:

Rotzler TH1 planetary style w/ fail safe brake

Pull:

2200 lbs.

Capacity:

100 ft x 1/4" cable
Control panel

Panel:

Feed, rotate, water pump, SPT hammer control and setup functions

Gauges:

Rotation, feed/holdback & air/water pressure

Safety: 

Emergency stop
Footclamp

Design:

Two hydraulic cylinder & jaw / Bolt-on, removable design

Clamping force: 

20,000 lbs.

Max opening:

6 - 1/4"

Clamping range:

2" - 6-1/4"