L.A.D. – Track Mounted Limited Access Geotech Drill
MPP's new limited access geotechnical drill. This compact, rubber-tracked rig was designed to complete work on drill sites where access is limited and/or environmental impact must be kept to a minimum. Compact enough to drive through a standard door frame, the rig has a width of just 34 inches and a height of 69 inches when configured in travel mode. With its 2500 ft-lbs of rotary torque and 12,500 lbs of pullback, the rig can efficiently run both hollow and solid stem augers and complete typical geotechnical programs. Designed with portability in mind, the rig can be broken down into three lightweight modules for helicopter transport. The rig is capable of drilling auger (hollow and solid stem), RAB (rotary air blast) and advancing casing. It is also compatible with our SPT auto hammer. The limited access drill's versatility and portable design make it ideal for any mineral exploration, geotechnical or environmental drilling program.
Features
34" Width For Tight Access Drilling Locations

Class-Leading 45 HP Power Unit

Highly Versatile – Auger, SPT hammer, RAB/RC, Casing Odex and Diamond Core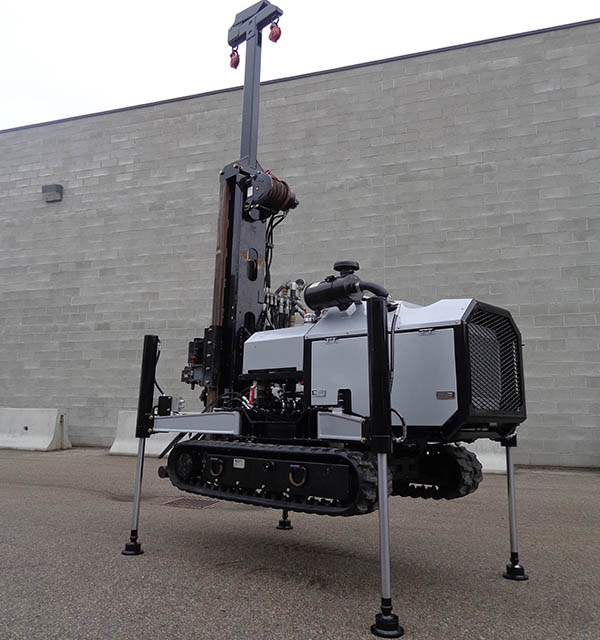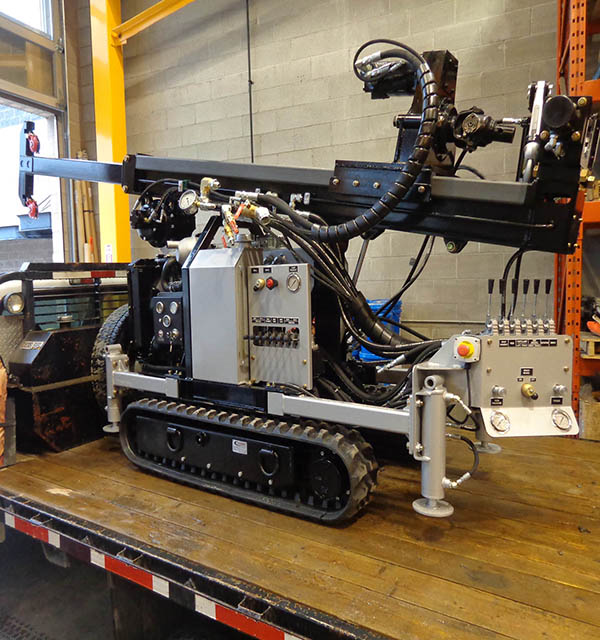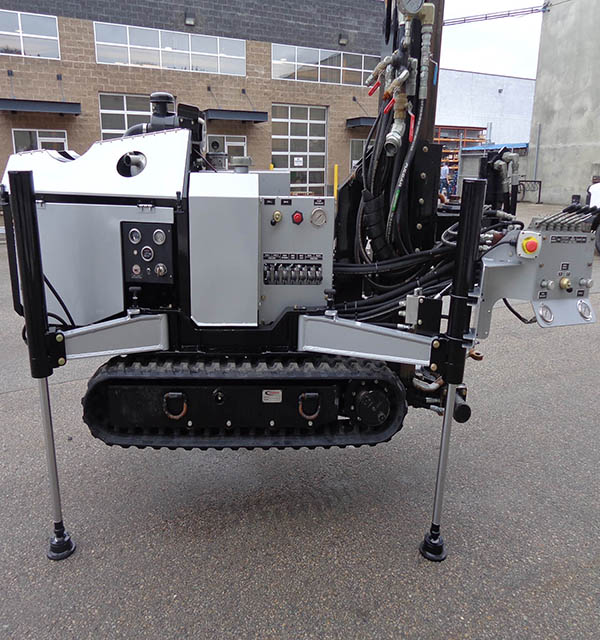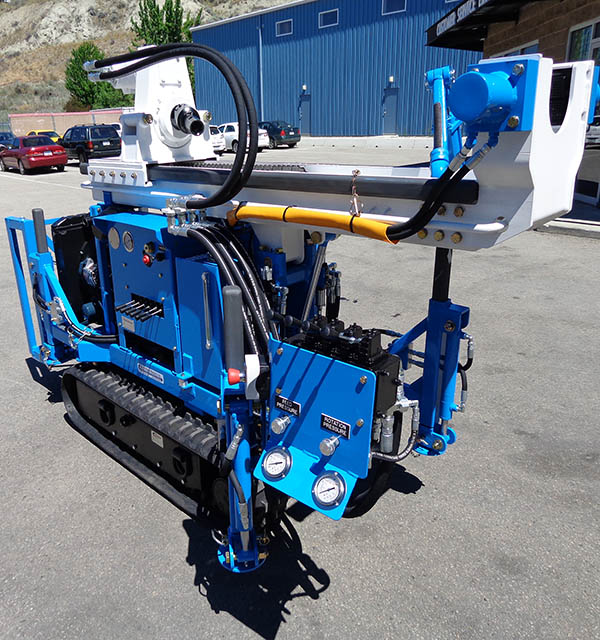 Depth Capacities: Based on 300 CFM / 200 PSI compressor

4-1/2" Solid stem auger

200 ft / 60 m*

6-5/8" Hollow stem auger

75 ft / 23 m*

3-1/2" (89mm) Air rotary drilling

330 ft / 100 m*

 

*Depending on ground conditions
Prime mover

Model:

Kubota V1505T, 4 cylinder, turbo charged diesel engine

Power:

44.2 HP @ 3000 RPM
Track & undercarriage package

Model:

Chermack 2B 60" track

Design:

Compact, rubber track set

Speed:

2.6 mph

Stabilizers:

Four hydraulic stabilizers
Top drive rotation unit:

Max torque:

2500 lbs /ft

RPM:

0-95 RPM

Spindle:

Floating w/ HD U-joint assembly 1-5/8" hex

Rotation motor:

Char-Lynn 6K series
MAST AND FEED

Design:

Double rod cylinder and chain feed

Pullback:

12,500 lbs.

Pulldown:

12,500 lbs.

Feed stroke:

66" - Longer feed stroke option available

Working angle:

45 to 90 degree
HYDRAULIC SYSTEM

Design:

Fully hydraulic, no electronics, open loop

Capacity:

20 GPM

System pressure:

3000 PSI

Filtration:

10 micron

Components:

Sauer Danfoss, Char-Lynn & Parker

Heat exchanger:

Air:oil
Control panel

Panel:

Feed, rotate, L&R track, SPT hammer control and setup functions

Gauges:

Rotation, holdback & air pressure

Opening: 

6 - 1/4"
Footclamp

Design

Two hydraulic cylinder & jaw / Bolt-on, removable design

Clamping force: 

20,000 lbs

Opening:

6 - 1/4"
Dimensions (transport)
34" W x 115" L x 69" HT
OPTIONS
SPT auto hammer
Diamond core package
Rotzler winch
RAB package
Telescoping tracks
Radio remote package for track drive
Water pump